Our Team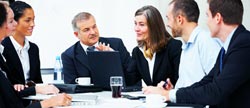 At Guricon we believe that our staff reflect and define us as an organization.
Therefore with this school of thought and staying committed to our high standards, we invest in our staff and recruit highly skilled and qualified professionals to ensure that our quality commitment to you is never compromised.
Our people are all qualified professionals (ACCA, ACA, CPA ) and have backgrounds from institutions with a global reach. Moreover, our associates have a wealth of experience that not only encompasses their technical knowledge but also their professional attitude, loyalty and free thinking that contributes to the many factors that allows us to distinguish ourselves from the others.